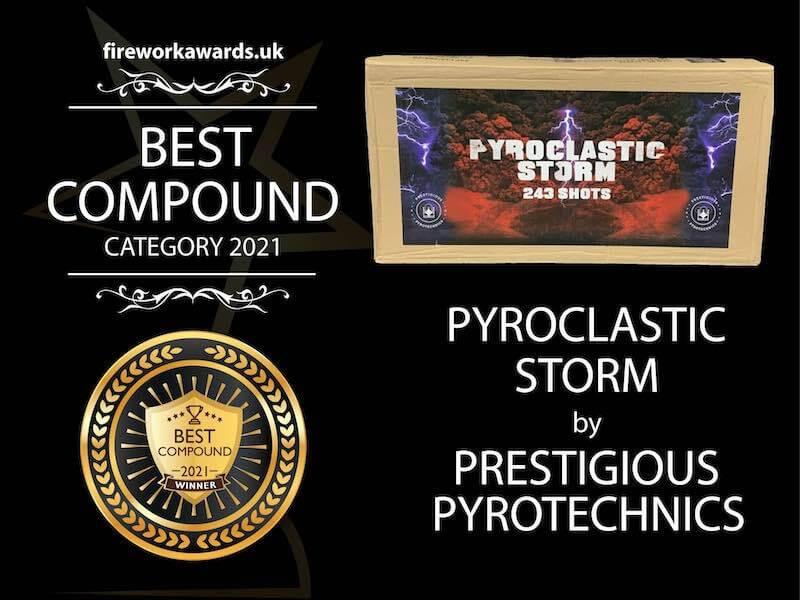 We've done it again! Our sister company, Prestigious Pyrotechnics, has won another award – the Best Compound award for Pyroclastic Storm in the inaugural 2021 Firework Awards UK.
We're still celebrating our achievement of White Spirit winning the Best Medium Cake award and are thrilled to add another award to the collection.
We have much to be thankful for. Pyroclastic Storm is our first compound firework, and it was only launched six months ago, but we'd like to dedicate the award to our dear late friend Chris Allen.
People in the industry will know Chris from Celtic Fireworks. He was a great businessman and a great friend to many. In an industry known for its fierce competitiveness, Chris was only too happy to share his knowledge and passion for fireworks. His creative and guiding influence throughout the design to manufacturing journey was instrumental in bringing Pyroclastic Storm to fruition.
Announcing the award, organisers UK Firework Alliance (UKFA) and the UK Firework Review (UKFR) said: "The incredible compound, filled with almost 3kg NEC of powder and boasting 25mm bore tubes, provides a relentless 65-second display of effects and colour with a stream of bombettes fired in a W-trident formation. With a finale volley of 24 simultaneous angled breaks, this compound is a display in itself!"
Saj , owner of Chorlton Fireworks and Prestigious Pyrotechnics, said: "This award means so much to us all at Chorlton Fireworks and Prestigious Pyrotechnics. We are dedicating this award to Chris Allen, who sadly passed away last year. Chris was instrumental in the initial development of Pyroclastic Storm and I will always be forever grateful for his counsel and friendship. He was a big fan of the big compound, and I just wish he could have seen it fired in the UK.
"I'd like to thank our industry peers for nominating Pyroclastic Storm for this award and all the public who voted Pyroclastic Storm the Best Compound firework of 2021."