How does it work?
Those wanting to honour their loved one's wishes with a memorial firework can approach one such company to get the process started. A conversation will take place to determine what your exact wishes are so the professionals can follow them to a T. They may want to know whether you want them to use all or just some of the ashes, what type of firework or fireworks you'd like, and whether you'd like a professional display or to use the fireworks privately.
The firework professionals will get to work incorporating your loved one's ashes into fireworks or one solo firework for the big send-off. This involves adding the ashes to the shell component of the firework along with the effect so that when the firework explodes in stars and shimmers, you'll know that's when your loved one's ashes will be released too.
You can get a better understanding of how your memorial firework will work by reading our article on how fireworks are made.
Professional Memorial Firework Displays
A professional display will incorporate several different fireworks (some or all containing ashes), which is set off by a pyrotechnician. You might want to choose a professional display for these reasons:

All of the ashes are used in the fireworks with none left over.
The display is professionally choreographed and fired meaning you don't have the stress of planning and pulling off the display yourself.
Many companies offer to put the firework display to music.
Ashes can be added to the fireworks on-site, in your presence, before the display.
Some companies offer other touches to the event like a toast with champagne.
Some people decide they do not want to have a professional display because it is less intimate than if they were to fire the fireworks themself with close friends and family. If you're thinking of having a memorial firework, you should take the time to decide what would make you, other close friends and family, and your loved one happy.
There is also the issue of where fireworks can be set off. If you are scattering ashes on public land in the UK, you must get the permission of the landowner beforehand. If you work with a professional company for a memorial firework display they will usually seek the relevant permissions on your behalf.
Professional firework displays are more expensive than self-firing memorial fireworks because of the labour and professional intervention involved as well as the number and type of fireworks used. They can cost anywhere from £1,000 to £3,500 and more.
Self-Firing Memorial Fireworks
Self-firing ashes fireworks are a preferred choice for people who want a smaller-scale or more intimate event for the send-off of their loved one. If you choose self-firing fireworks the business will make up your chosen firework or fireworks with the ashes contained inside and hand them over for you to set off as you see fit.
People often choose self-firing fireworks because:

They have more freedom for how the fireworks will be set off and who will be present.
There is more flexibility as to when the fireworks can be set off.
It is a more cost-effective option.
There are more options for where they can be set off.
They can 'light' the fireworks themselves.
Self-firing memorial fireworks require a bit more work from the user than a curated display. Some people choose not to have self-firing fireworks because they do not want the pressure of setting up and firing fireworks themselves. When this is the case it's easier to hand over the responsibility to a professional.
If you are planning to set off the fireworks yourself you will also need to consider whether permissions are required on the land or area you choose to use. However, most of the time, when someone chooses self-firing fireworks it's to use them on private property such as their own garden.
The cost of self-firing fireworks depends on the type of fireworks being used and how many are involved. Some people will only want one rocket with a portion of the person's ashes incorporated, while others would like a pack of fireworks using all of the ashes for a full display. Generally, one rocket will cost £80-£100.
Types of Memorial Fireworks
There are a few different types of fireworks that can be used for scattering ashes. The company you choose will be able to guide you on their specific options.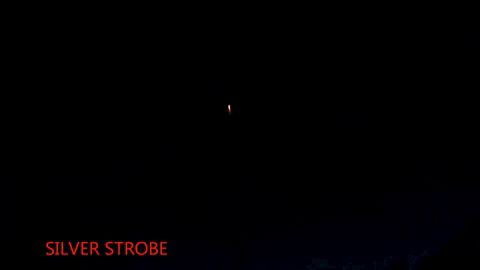 The most popular of memorial fireworks is the rocket. This is a classic firework that shoots high up into the sky with a whistle and explodes in a burst of stars with the signature bang and crackle sound. Rockets come in all different sizes, colours, and effects.
Rockets are usually used as the main climax of a show. If you only want one or two memorial fireworks you could choose rockets for a big impact and launch some regular fireworks beforehand as a lead up to the finale. Fountains make wonderfully graceful fireworks for the lead up to something bigger.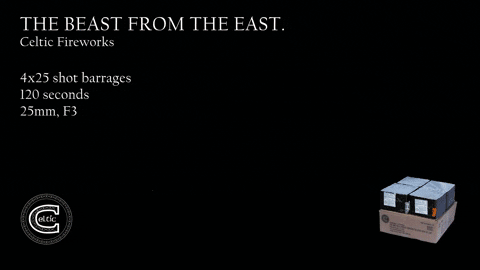 Firework cakes are sometimes called single ignition barrages because they only need to be lit once to produce multiple shots. A firework cake can give you and your friends and family a whole firework display, with consecutive shots in different colours and effects.
A barrage is a box-shaped firework, made up of a grid with many small compartments, each one containing an individual shot. This is ideal for those who want a self-firing display, the shots in a barrage can be made up of different colours and effects, all professionally put together for a beautiful display. The easy lighting means a less stressful experience for the firer too.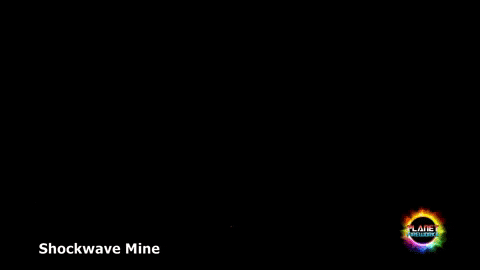 For those who want a more dramatic or powerful send-off, a mine firework is a great option—provided you have the space. Mines are the loudest fireworks available to consumers, usually because they consist of several shots that are all fired in unison.
A mine firework will activate immediately from where it is fired on the ground, and often take on a fanned formation, with several tails shooting up and bursts exploding at different heights in the air. Mines usually require a 25m+ safe viewing distance, although options for 15m are available too. Find out about what to expect from fireworks in different firework categories in our blog to understand more about safe viewing distances.
If you're planning to get some photos of this one-of-a-kind firework display, read our tips on firework photography first so you'll have some professional-looking photos to remember it forever.