Fireworks present a safety risk and need to be handled with caution. Much like any other product that can cause damage, the legal age to buy fireworks UK wide is restricted so they don't end up in the wrong hands where they could hurt someone. Fireworks law and regulations are strict to keep people safe. Before setting out to order fireworks for a display you might want to check the legal age to buy fireworks and make sure your plans fall on the right side of the law.
If you're wondering how old do you have to be to buy fireworks, UK leading fireworks supplier, Chorlton Fireworks has the answers here.
At What Age can you Buy Fireworks?
The age to buy fireworks in categories 1, 2, and 3 is 18. This covers all fireworks that are available for the public as category 4 fireworks are reserved for professional use only. In Manchester, the law on fireworks states that it is also an offence to sell "caps, cracker snaps, novelty matches, party poppers, serpents and throwdowns" to any person under the age of 16.
If you can't meet the age to buy fireworks, UK laws also forbid you from setting them off, you could end up with a £5,000 fine so it's best to stay clear and let an adult do it. Staff in most shops are trained to employ the Challenge 21 Policy when selling age-restricted products meaning when considering how old to buy fireworks you should look at least 21 and will be asked to show your ID if you don't.
Fireworks Regulations: UK Fireworks Law
To make sure people can enjoy fireworks to the fullest without worrying about firework danger, fireworks UK law divides products into four categories. The fireworks rules applied to each depend on how far is considered a safe distance from the firework when it is lit.
Category 1 – indoor fireworks
Indoor fireworks are smaller-scale fireworks that are safe to use in a restricted environment. These fireworks won't climb up and explode like outdoor fireworks do, they are usually much more controlled. Sparklers are probably the first firework people think of when indoor fireworks come up, but other products are regularly used in clubs, bars, and pubs. These include confetti cannons, ice fountains, and novelty cake or bottle toppers.

Category 2 – garden fireworks – must be safely viewable from 8 metres away
Garden fireworks are ideal for smaller private parties and, as the name suggests, displays set up in your back garden (provided you have 8 metres of space to view them from). Fountains, strobes or flares, and some smaller rockets like our WOW Garden Firework Pack, are perfect category 2 fireworks.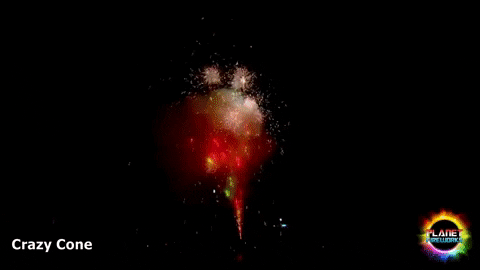 The Crazy Cone fountain


Category 3 – display fireworks – must be safely viewable from 25 metres away
Category 3 fireworks are the largest ones that can be bought by the general public. These are safe to view from at least 25 metres away. Any fireworks larger than this can only be handled by trained and qualified people, state fireworks laws England. Category 3 fireworks are ideal for larger gardens and stately grounds. Compound fireworks, like Rolling Thunder, are fantastic Category 3 fireworks that only need to be lit once to produce multiple shots.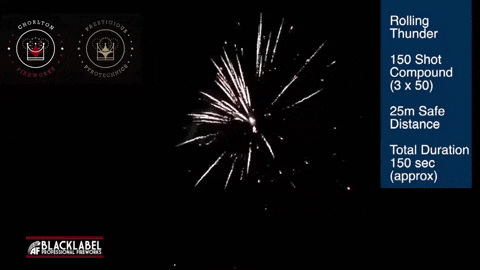 Rolling Thunder compound firework

Category 4 – display fireworks – for professional use only
It is illegal for members of the public to possess Category 4 fireworks. These are explosives so powerful that they present an especially high hazard and fireworks law UK deems them too dangerous to even risk an accident from public use. Only professionals with specialist knowledge and qualifications can handle these.
When Can you Let off Fireworks?
The UK government states that no fireworks can be let off between 11pm and 7am. The fireworks time law is in place to respect the hours of reduced noise in the UK, and similar limits on volume are applied to construction work or playing loud music. These fireworks times only have one exception:

Fireworks Night or Bonfire Night: fireworks must stop at midnight
New Year's Eve: fireworks must stop at 1am
Diwali: fireworks must stop at 1am
Chinese New Year: fireworks must stop at 1am
When Are Fireworks Illegal?
We've heard people ask "is it illegal to set off fireworks?" before. We can say unequivocally no, fireworks aren't illegal (we'd be out of the job!). However there are some situations in which it is illegal to use fireworks according to fireworks rules UK wide, including:

In the street or in public places (unless you have permission from the council, for example, for a community event)
Outside of the legal hours that fireworks can be set off
You cannot buy fireworks from any registered seller or private user unless in the below date ranges. Selling fireworks unless you are a licensed supplier at other times of the year is illegal. At Chorlton Fireworks we are fully licensed and sell fireworks throughout the whole year.
15th of October to 10th of November
26th of to 31st of December
3 days before Diwali or Chinese New Year
Armed with knowledge on the limits of how old to buy fireworks, UK laws and regulations around firework use, and which fireworks fall into what categories you can plan your event with safety as your number one priority, which is what it always should be when handling fireworks.